Why are professional security services important now? Explanation of the latest security service situation.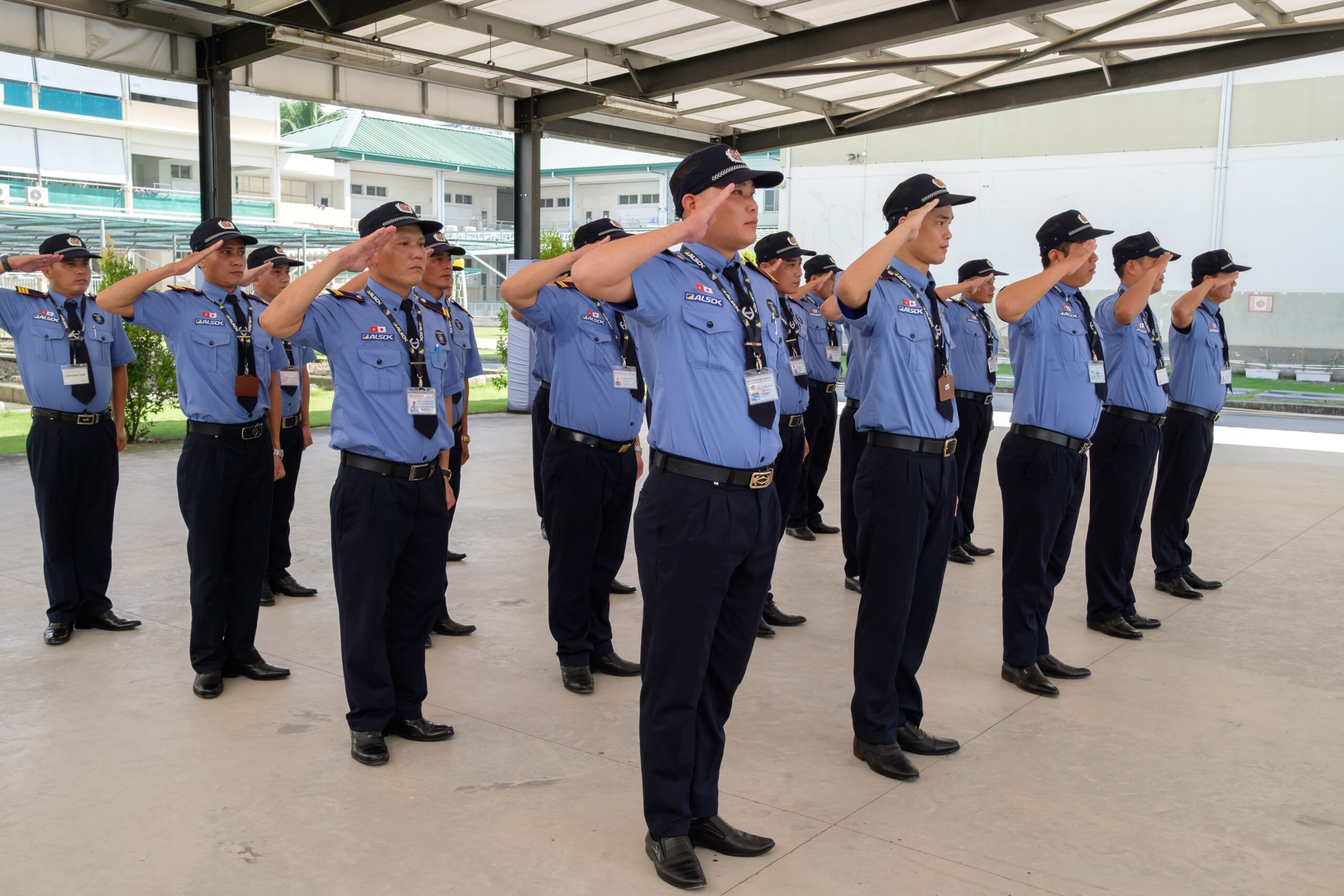 There are various security companies in Vietnam. Also, security guards might be found around the city. Since the content of services differs depending on each company, many people may not be sure about which company to work with or what kind of security planning to implement.
Speaking of security in Vietnam, people often think about security guards being placed in front of restaurants 24 hours a day, for example.
In the case of factories, the mainstream was "human security", such as setting up security huts at each location and making patrols every hour.
However, it tends to combine security with machines instead of relying only on humans, due to issues relating the labor costs and declining security guard quality.
The latest security services are described here.
Incidents and accidents that often occur in Vietnam
Motorbike theft is one of the most common incidents in Vietnam. Some master keys are said to be available on the market depending on the model of a certain manufacturer. Many surveillance camera videos on the Internet show how motorcycles are stolen in no time at all.
Also, many managers worry about robbery in the company or in the factory. In addition to copper wire, which is highly redeemable, iron scraps and waste materials found in garbage storage areas, as well as tools and various measuring instruments are also subject to theft.
Finally, stealing by intrusion from the outside also increases in HCM city and HN city.
There are reports of theft due to break-ins in various places such as restaurants and offices.
In Vietnam, security guards are everywhere in factories, offices, and restaurants. Under such circumstances, the reason why such damage occurring frequently is that there are limitations in traditional security method – "security by humans"
Why do you need professional security services?
Speaking of "security" in Vietnam, you may think of "arranging security guards".
Planning to deploy a large number of people and prepare a security system has the matter of soaring labor costs.
However, security that combines not only human security but also machines (sensors, etc.) might minimize the number of personnel deployed and mark an efficient security plan (security by machines will be explained later). In recent years, various types of security equipment have been sold in Vietnam, and it is now possible to obtain inexpensive and high-performance equipment.
Human eyes alone might miss and make mistakes.
it is impossible to have 100% perfect security.
However, there are things that only humans can do, such as motorcycle arrangements, opening and closing gates, and room management.
Neither entrusting all security to machines nor only humans is a professional security service.
Professional security means providing a security plan that suits the customer's situation, such as "arrange the security guards at the positions where people should guard and install the devices at the places where security should be entrusted to machines."
Recommended by ALSOKProfessional Security Service ①

First of all, it is about the cost reduction of security guards by installing infrared sensors in factories.
As I wrote above, in the traditional security system, vigilance by people (security guards) has been the main focus.
There are many places where many security guards are arranged, for example, patrol the perimeter every hour or go to inspection points to perform inspections.
Even if it seems that security tasks are doing well.
But if security guards are not patroling or inspecting it, it is easy for someone to break in from the outside or take it out from the inside.
In such cases, ALSOK proposes installing border sensors around the perimeter of the factory premises.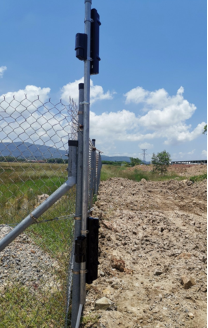 A border sensor is like this picture, invisible infrared rays are stretched between the sensors, and an alarm can be sounded if someone blocks the infrared rays.
By installing multiple units according to the environment of the security target, it is possible to prevent people with malicious intent from approaching the fence, such as entering from the outside or taking it from the inside.
If someone blocks the infrared rays, an alarm will sound to notify the security guards arranged in the facility, and the ALSOK monitoring center that operates 24 hours a day will also be notified.
An emergency contact is conducted to minimize damage.
Also, by installing this, the patrol work of the security guards will be reduced, so the number of security guards can be reduced.
Security by device is considerably cheaper than human security, so security costs can be reduced while increasing the level of security.
Professional security services recommended by ALSOK②

The next professional service proposed by ALSOK is the I-parking system.
The main method of managing motorcycles in Vietnam is to hand over ticket stubs at the time of entry and refrain from motorcycle numbers.
Some factories strengthen the number of security guards, managing tickets and numbers during the morning and evening hours when employees come in and out.
Increasing the number of security guards will incur costs, and since it is a manual check, it may become stuck in rush hour.
In such cases, ALSOK proposes a motorcycle parking system like the one shown in this photo.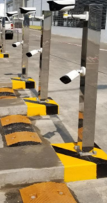 This is a management system that uses IC cards which have already been installed in large shopping malls.
Information was priorly registered on the card. Motorcycle number, entry time and user photo are automatically saved, and when exiting.
The barrier will not open unless the information matches.
Although installation costs are incurred at the beginning.
It will ultimately lead to cost reduction and smooth entry and exit by reducing the number of security guards that have been increased so far.
It is a system that is appreciated by all employees.
Professional security services recommended by ALSOK ③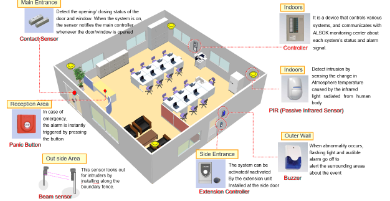 Finally, the professional security service promoted by ALSOK is the "online alarm system". Various sensors are combined and installed to minimize damage caused by intrusion and removal from offices and warehouses where important items are stored.
They might be installed in large factories as well as in small offices and homes.
For example, if sensors that detect the movement of people in an office that is unmanned at night, or sensors that detect the opening and closing of doors and windows are installed, an alarm will sound immediately if someone breaks in, enabling ALSOK monitoring. Center will be notified.
Even when there are no people, such as at night, on weekends, or during Tet holidays, you can protect the cash stored in the safe, employees' computers, and important equipment and information by having the machine guard.
The CCTV system is for checking purposes after the damage.
First of all, such an alarm system is recommended in order to minimize the damage caused by theft or break-in.
In recent years, security-related items for various purposes have been distributed in Vietnam at low prices. If you want to keep security as low as possible, it is better to install an alarm system than to have security guards.
What is an online security system?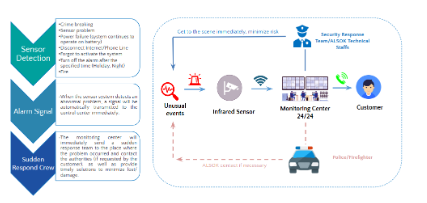 An online security system is a system that provides security by installing various sensors as described above. Security is performed by combining various types of sensors such as motion, door, and infrared. If the sensor detects an anomaly, a report is sent to the monitoring center which operates 24 hours a day.
Then, an emergency contact will be made with the customer, and ALSOK's guards will rush to the site if the area is covered.
There are various types of sensors, such as infrared sensors installed around the perimeter of a factory that can detect intruders immediately. If there is an intruder, you can find it immediately.
The online security system is also cheaper than security guards.
There are positions that depend on human force, such as motorcycle arrangements. Sensors can be installed in other areas to reduce costs and increase security levels.
Our Services – The online security system
Why are professional security services important now? Explanation of the latest security service situation 【summary】
Above We gave explanations about the latest professional security.
We are evolving from "security = human security" to "security that combines humans and machines".
Machine-based security has many advantages. Costs might be reduced without incurring labor costs, and the sensors might work 24 hours a day, 365 days a year. 
The type of protection depends on your situation. Please feel free to contact to ALSOK and have further discussion.
Please contact us if you have any inquiries about online security system installation.

Delivery as soon as possible after ordering from the inquiry, it is possible to respond quickly to unforeseen situations.
In addition, it is also possible to set the device voice with bilingual languages from 3 available languages (English, Japanese and Vietnamese)
For further information, please contact the nearest ALSOK office.