Public-access Defibrillator necessity
How to response to sudden cardiac Arrest (SCA) with

AED ZOLL Plus
SUDDEN CARDIAC ARREST MIGHT HAPPEN TO ANYONE!
Sudden Cardiac Arrest (SCA) accounts for the highest mortality rate all over the world compared to other disease or illness, including Vietnam. According to data from American Heart Association, Cardiovascular diseases claim more lives each year than all forms of cancer and Chronic Lower Respiratory Disease combined.. It can happen to ANYONE, ANYTIME and ANYWHERE.
When a person has cardiac arrest, the only method to save that victim is by using AED combined with proper CPR (Cardiopulmonary resuscitation).
AED (Automated external defibrillator) is a portable and lightweight medical device which helps deliver electrical shock via electrode pads to the victim's heart.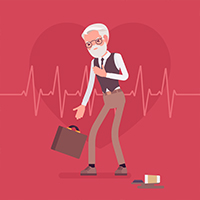 10 MINUTES TO COMPETES AGAINST TIME!
Saving a victim with cardiac arrest is like competing against time as you only have roughly 10 minutes before the victim perish. Within 3 minutes since the victim collapsed, if electrical shock is sent to his heart, the surival rate can be as high as 80%.
AED is used when a heart fails to beat normally, leading to blood circulation throughout the heart and the body stops caused by Ventricular fibrillation (abnormal ECG - electrocardiogram) and Ventricular tachycardia (heart beats too fast) as well as many other reasons like drowning, heart attach, strong strike, electrical shocks, asphyxiation, ... In such cases, without blood being pumped into the brain, it will be fatal for the brain after just 4 minutes. After the brain dies, even if the victim is saved, he will most likely live in vegetative state for the rest of his life.
You have less than 10 minutes to save a victim with Sudden Cardiac Arrest
AMBULANCE CAR ISSUE!
Provided that, an ambulance in Vietnam still normally takes at least 20~30 minutes to arrive the accident sites. Each minute passes by without any treatment, the survival rate will decrease from 8~10%.
Ambulance car takes normally at least 20-30 minutes to arrive to victim site
ANYONE CAN USE AED AND SAVE VICTIMS!
AED is an easy-to-use device, even for people without much medical experience or knowledge. Users just need to treat the automatic instructions voice generated from the AED as a doctor's guidance and follow these instruction properly . AED is used for an unconscious person who is NOT Breathing normally.
"If the victim is not treated promptly within minutes, it would quickly lead to death." (American Heart Association).
AED in public sites: ANYONE might use. Just follow the instruction voice and SAVE VICTIMS