AED NIHON KOHDEN 3100
(MADE IN JAPAN)
Nihon Kohden Cardiolife AED - 3100
Product No.

AED-3100
Brand

Nihon Kohden
Size (L x W x H)

34 cm x 26 cm x 15.5 cm
SPECIFICATION
Energy
Adult: 150-200-200J
Child: 50-70-70J
User interface
Instruction by voice, CPR timing sound
100 times / minute (option)
Indicator (green/red), shock button, adult/child key.
Battery
Capacity: 200 discharges or 7.5 hours monitoring
Stanby life: 4 years
Analysis time
Less than 8 seconds, minimum 4.5 seconds
Form turn on to discharge
Less than 15 seconds (with new battery)
Size
206(W) x 252(D) x 97(H) mm
Weight
2.3 kg with battery and pads, 1.9 kg without battery and pads.
Standard Vibration
MIL-STD-810F 514.5C category 4 and category 9, EN1789
Water and dust proof: IP55
OUTSTANDING FEATURES
Continuous VF analysis
Continuous VF analysis is available on AED-3100. With this function, the ECG waveform can be analyzed even during
CPR and energy charging starts before the shock is advised. This helps you deliver faster defibrillation than ever before.

Fast analysis and charging
It takes less than 15 seconds from turning the power on to discharge. Faster charging time helps you deliver energy quickly when VF is observed.
05 YEAR BODY WARRANTY
MULTIPLE LANGUAGES INSTRUCTION VOICE AVAILABLE:
VIETNAMESE, ENGLISH AND JAPANESE
How to save a victim with

AED Nihon Kohden
PAD APPLICABLE TO BOTH CHILDREN AND ADULT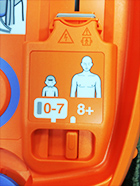 International resuscitation guideline* recommends to reduce the energy for child patient to avoid burning of heart muscle. AED-3100 can reduce the energy to 50/70J just by switching the energy switch to child position. No need to change the pads or perform any other action
FREE CPR AND AED HOW TO USE TRANING
CPR and AED training course is conducted freely upon delivery day at Customer site.
ALSOK Vietnam has been conducting training Program for more than 6,000 staff and International Senior Manager.
OPTIONAL ITEMS
AED Protection Cabinet

Bell notification when taking AED.
Needs gry battery for the bell work.
A pair of defibrillation pads

Defibrillation pads used for AED-3100
Battery Pack

Battery used for AED-3100