Automated External Defibrillator (AED)
WHAT is AED
AED ZOLL PLUS VS NIHON KOHDEN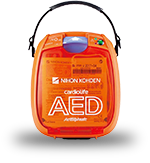 Specifications of
AED NIHON KOHDEN
(Made in Japan)
How to save a victim with AED Nihon Kohden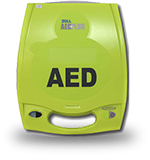 Specifications of
AED Zoll Plus
(Made in US)
How to save a victim with AED ZOLL Plus
ALSOK is the leading AED Authorized Distributor not only in Japan but also in Vietnam with wide range of Products, including Zoll Plus - US product and Nihon Kohden - Made-in-Japan.
One feature that really sets Zoll AED machine apart from other AED brands is its real-time feedback about the rate and depth CPR compression performance. This function relieves people without much experience or knowledge in CPR of worries about whether they are doing it well enough or not. The feedback will be issued by voice accompanied with visual instruction on an LCD sccreen built-in the AED machine.
AED zoll with LCD and CPR Feedback
For Non-English speakers, Nihon Kohden prevails Zoll as it offers users with voice instructions in up to 3 languages including Vietnamese, English and Japanese). Users can choose to use 2 of these 3 languages depending on their preferences: EN+VN,EN+JP,VN+JP.
Another feature worths noting is that Nihon Kohden AED can be applied used for both children and adults without needing to change the electrical pads, which makes it super convenient and easy to use.
Nihon Kohden with Vietnamese Instruction voice availability and Flexible Child/adult mode
Where AED should be placed?
First and foremost, It is strongly advised that AED be placed in Swimming pools, Gymnasiums, hotels, soccer field , factories or other sport venues in which physical activities with high intesity are taken place regularly since drowning and other incidents that lead to cardiac arrest might happen anytime.
AED is recommended to be placed in sport yards, swimming pools, hotels, resorts, construction sites,...
AEDs are also highly recommended for other public sites such as shopping centers, office buildings, hotels, schools, factories as sudden cardiac arrest might happen to anyone at anytime and in any places.
Schools, shopping centers, office buildings, factories, ... are places that AED should be placed as well
By and large, both public and private venues, at which there is a large number of people or people are at high risk for cardio arrest or heart attack need to be equipped with AED.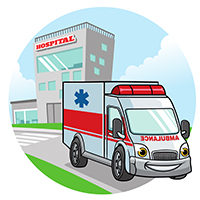 (Japantimes, 2002) informed the death cause of Japanese Prince TAKAMADO in 2002, when he was playing Squash at the Canadian Embassy, aged 47. "Immediately after the prince's collapse, a Canadian official phoned for an ambulance and the prince was rushed to Keio University Hospital in Shinjuku Ward". Tradically, miracle did not happen in the end. Since then, AED has been known as Legal Nationwide Public-Access Defibrillator in Japan since 2004.
Add Voices of customers
who have already installed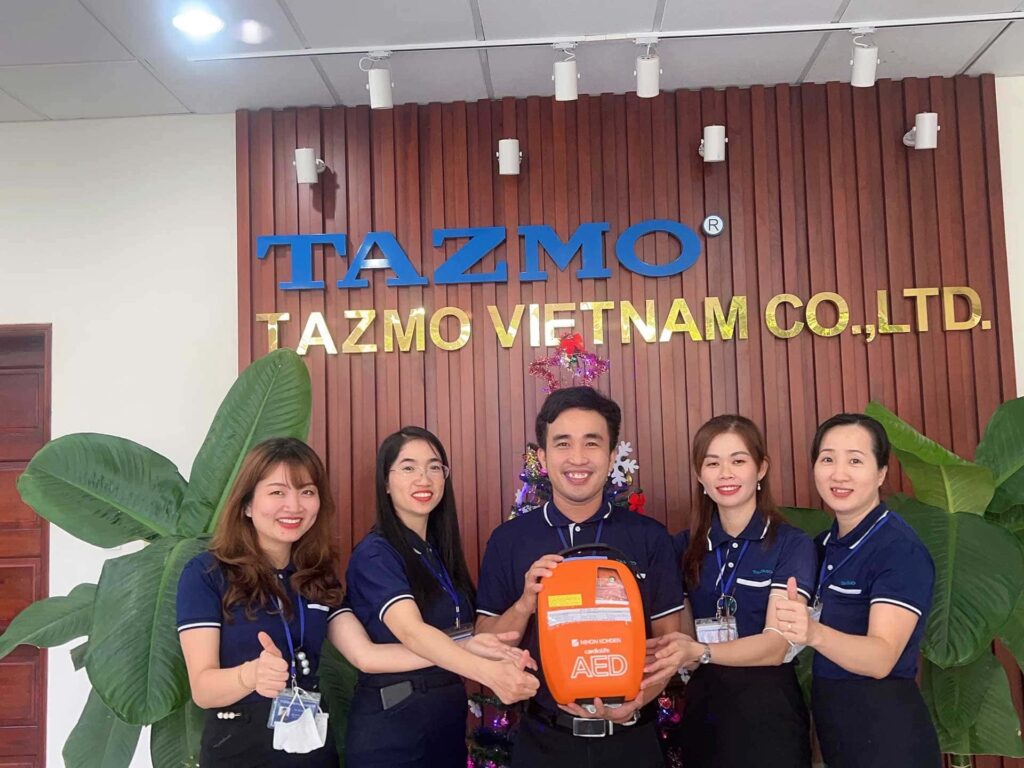 TAZMO VIETNAM CO.,LTD
General Director- Mr.Fukuo KazuhisaIn Japan, AEDs were installed in factories, but they have not been popularly placed in factories in Vietnam yet.
If you purchase an AED from ALSOK, a one-hour lecture/training shall be given at the time of delivery.
Most of Vietnamese staff had no idea either about AED or emergency lifesaving. Therefore, those who participated the training were really happy as they gained a lot of knowledge.
The AED might be operated easily by following the guidance.
However trainees were able to confirm the series of cycles, such as cardiopulmonary resuscitation and then hand over to the emergency rescue team. Also, they were able to imagine the actual use scene after lectures and training.
I feel very lucky to have been introduced AEDs from ALSOK. It helps not only save my own life, but also protect the safety of our employees.
ALSOK VIETNAM - Authorized AED Distributor.
ALSOK has provided more than 170,000 AED devices for more than 14 years in JAPAN.
Currently, AED is gradually becoming popular in Vietnam. More than 200 enterprises have placed trust in AED provided by ALSOK Vietnam, spreading from Hotel Field (Intercontinental Westlake Hotel, JW Marriott Hotel, Topas Sapa Hotel, Western Premier Sonasea,...), International Schools (Mirai Kindergarden, Nakayoshi Kindergarden, British School...), office buildings, Embassy, Shopping Centers, to Enterprises and Factories from North to South in Vietnam.
They are pioneers in using AED for risk prevention in Vietnam.
Besides, CPR and AED training course is conducted freely on the delivery day at the Customer site.
ALSOK Vietnam has been conducting training Program for more than 6,000 staffs and International Senior Managers.
Free CPR and AED how-to-use Training
In conclusion, Nihon Kohden would be ideal choice in Vietnam choice for Vietnamese consumers.
Besides, you might decide to set up bilingual languages with English or Japanese as well. Hotels and Shopping malls or schools are adviced to be eqipped with Nihon Kohden which is pad is applicable for both Children and Adult.
However, for places with many English-speakers, foreigners or people who have concern about how to properly perform CPR (chest compressions + breaths), ZOLL seems like a better choice.