Facial Recognition System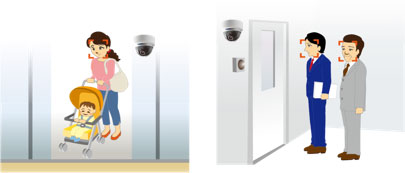 ALSOK provides the high-efficiency and low-cost Facial Recognition System, changing the opinion of traditional [Facial Recognition System]
3 advantages of the Facial Recognition System!
May be installed with low cost
ALSOK provides a Facial Recognition System that can be installed with low cost. Depending on certain conditions, basic equipment can be installed free of charge.
It is possible to connect to products of other companies easily
For example, it is possible to open doors after being connected to devices such as cameras and doors if technical components satisfy requirements. We supply a new solution to launch a system that can be connected to various devices.
A maintenance and assistance policy for support
We commit that we will maintain and support operation of ALSOK after sale.
---
Overview of installation (door control system)
A password, a card or fingerprint comparison is not required
Different from other devices to the latest system.
It is possible to manage and control a group of persons
Low-cost, it is possible to install it immediately
When used at a door , it's possible to open the door by a [face] without a key, a card or fingerprint recognition like before. It's also possible to make use of the device if existing doors and cameras meet requirements.

Overview of installation (Face recognition & notification system)
Identify and notify of a registered person
Identify a VIP
A face will be automatically detected after taking photos of visitors and staff by camera. Registering customer information and giving comments along with the information that will be shown quickly by face recognition to welcome a customer timely as well as to collect data.

In addition, nursing homes and hospitals, if registering for those who need to be careful when going out, this device can immediately notify the staff of their intention to go out.