Sensitive flame Detection Sensor
Do not miss even small flame!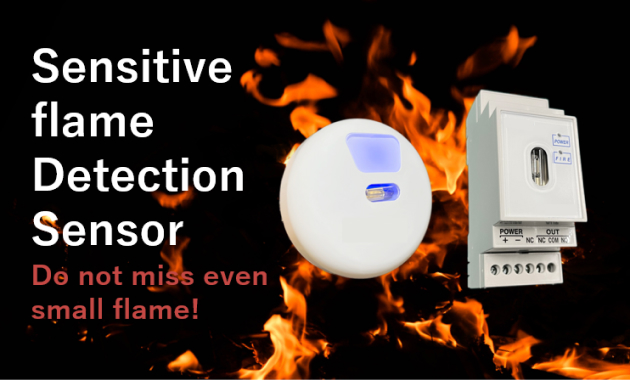 The system can instantly detect small flames and monitor them in the office or staff room, so by detecting flames early, you can deal with them at an early stage before they lead to a fire. In addition, when combined with fire extinguishing equipment, damage caused by fire can be minimized. It is a highly reliable sensor that can accurately detect flames without malfunctioning due to sunlight or other heat sources since it responds to the unique infrared rays emitted by flames.
1. Detect within at least 0.5 second

Detects ultraviolet rays contained in flames in as little as 0.5 seconds, enabling early detection of small ignitions that can cause fires. A lighter flame (about 2cm pillar of fire) can be detected at about 10m away, and a 1m pillar of fire can be detected at about 70m away.
2. It can be used both inside and outside.

Thanks to the unique technology that can distinguish sunlight and ultraviolet rays emitted from flames, it can be used outdoors without receiving false alarms due to sunlight.
3. Useful for enforcing smoking rules

By detecting smoking in areas other than smoking areas, such as restrooms, smoking rules can be enforced. It can also be used in non-smoking hotel rooms.
4. 24/7 flame monitoring

The sensors are connected to ALSOK's monitoring center, which operates 24 hours a day, 365 days a year. If a flame is detected, an abnormality notification signal is immediately sent to the monitoring center, which then immediately contacts the customer.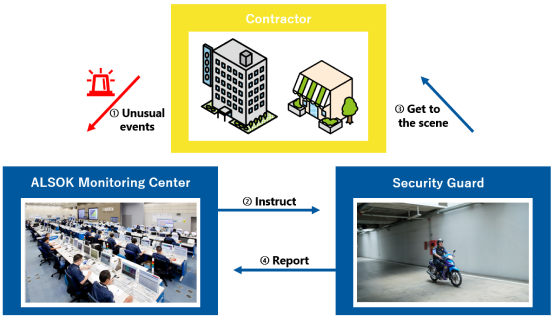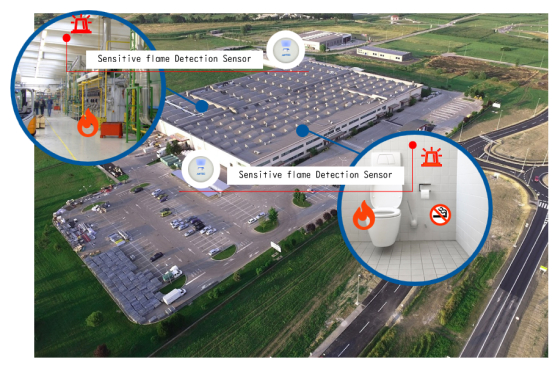 Install flame detection sensors in warehouses, production areas, and other locations where you want to immediately detect the occurrence of a fire. They can also be placed in areas where smoking is prohibited, such as restrooms and other rest areas. The sensor is connected to ALSOK's monitoring center, and when a flame is detected, ALSOK is immediately notified. Of course, it is also possible to notify the detection of flames within the factory.
CUSTOMER FEEDBACK

Rating the service quality:
I'm Nghia-CEO of Tri Minh Company. At first I was hesitant when knowing about ALSOK VN's services but after getting into the conversation and receiving advice from the sales team of ALSOK, I have to say that I feel much satisfied and reassured.
I really enjoy using ALSOK VN's services. I can say they have a very professional Security Response team to handle every case of alarm.
Eversince using ALSOK VN's services, I have never had a problem with the quality of service, and the way of communication of the SR team is very professional and polite.
For the price, I rate it as very reasonable (cheaper than expected) but it has brought me good experiences and a greater sense of security in the areas where ALSOK's security equipment is installed.
Although it is not a large factory, we highly appreciate ALSOK's service quality towards our small offices and warehouses, as well as the quick and timely response since it only takes an average of 15 minutes for the SR team to arrive and handle the problem whenever there's an alert at the taret.
In addition, when the alert was issued, I immediately received a call from ALSOK's Remote Observation Center and I was glad to be notified immediately whether it was early morning or late night. That has proved ALSOK's responsibility to customers. I really like it and will continue to use ALSOK Vn's security services.
FAQ
How much does it cost for the system?

The price will vary depending on the installation area and number of sensors. Please feel free to contact us.
Can you share some usage examples?

Not only can it be installed to prevent fire accidents in warehouses, factories, offices, and restaurants, but it can also be used to enforce strict smoking rules. One company was worried about smoking in the restroom, but by installing a flame detection sensor, it was able to detect even the smallest flame from a lighter, making it possible to enforce strict smoking rules.