Three Benefits of Hiring Security! The effect that you can see for the first time after using it.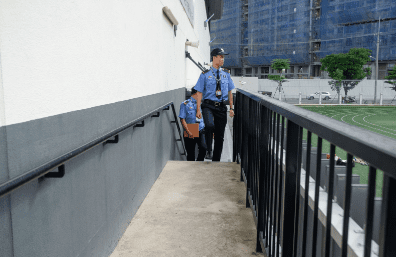 When considering security for an office, factory, school, etc. The first thing coming to one's mind is hiring a security guard.
Recently, sensor-based security has become widespread, and machine-based security is becoming more common. However, there are still many operations that can only be done by humans.
What are the benefits of hiring security guards?
The Benefits of Hiring Security! ①Crimedeterrence
The most considerable advantage of hiring a security guard is crimedeterrence. Security guards are often hired for this purpose.
For example, not only can you respond to crimes such as theft and theft but the presence of security guards can also prevent crimes from occurring in advance, leading to crime deterrence.
The Benefits of Hiring Security!②Enhanced security
Hiring a security guard will help prevent crime and increase security.
In Vietnam, there are many inexpensive and high-performance cameras on the market, and there are many factories, offices, and shops that have already installed cameras.
Definitely, installing a camera only can help deter crime, but basically what we can do with a camera is checking the footage after the event has happened.
Hiring security can help prevent crime on top of the security you already have.
The Benefits of Hiring Security! ③ A sense of security is created in life
Not only on weekends, but also on long vacations such as Tet, when the office or factory is left for a long time, security still raises the concerns.
Crime actually happens during long holidays such as Tet and consecutive holidays, and everyone is probably worried about security during that time.
Also, even if it is not a long holiday, it is safe to have security at night time every day.
Three Benefits of Hiring Security! [Summary] About the effect that you can see for the first time after introducing it
Three benefits of hiring security are introduced above. Hiring security brings about various benefits.
However, during long holidays such as Tet, labor costs rise, it may be difficult to hire a security guard.
Security operations which can only be conducted by humans should be hired. If not, an alarm system using sensors is also recommended. (Introduction of the alarm system is below.)
If you want to improve or strengthen security more, please contact ALSOK for further discussion and consult.
24 hours a day, 365 days a year security is possible with online security! What is an online security system?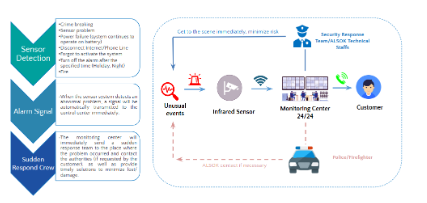 An online security system is a system that provides security by installing various sensors as described above.
Security is performed by combining various types of sensors such as motion sensors, door sensors, and infrared sensors.
If the sensor detects an anomaly, a report is sent to the monitoring center that operates 24 hours a day. Then, an emergency contact will be made to the customer, and ALSOK's guards will rush to the site if the area is covered.
There are various types of sensors, such as infrared sensors installed around the perimeter of a factory that can detect intruders immediately.
If there is an intruder, you can find it immediately.
Online security systems are also cheaper than security guards.
Security operations which can br conducted only by humans should be left to security guards, and sensors can be installed in other areas to reduce costs and further increase the level of security.
Please contact us if you have any inquiries about online security system installation.

Delivery as soon as possible after ordering from the inquiry, it is possible to respond quickly to unforeseen situations.
In addition, it is also possible to set the device voice with bilingual languages from 3 available languages (English, Japanese and Vietnamese)
For further information, please contact the nearest ALSOK office.