The 10th Security Situation in Vietnam: Security industry and security guards in Vietnam.
In this article, we will give an overview of the security situation in Vietnam. Along with giving examples of practical cases, we will also offer suitable solutions. At the end of the article, we will summarize the particular information about the security industry in general and security guards in Vietnam.
Number of security companies in Vietnam
Japan has a Code dedicated to the security industry called the "Security Business Law" which was enacted in 1972 (Showa 47) and has a history of more than 40 years. As for Vietnam, there is Decree 52/2008/ND-CP effective since 2008 and Circular 45/2009/TT-BCA effective since 2009, each document specifically stipulates security companies. and responsibility of security guards.
According to research by ALSOK (no official data yet) Vietnam has about 600 security companies. In which the Southern region (Ho Chi Minh City, Binh Duong, Dong Nai,…) has about 350 companies, the Northern region (Hanoi, Hai Phong,…) about 120 companies and about 120 companies. 130 companies in Da Nang city and other provinces.
The role of security guards
Security guards are responsible for maintaining security for corporate offices, factories and stores. Here are some ways:
Raise awareness about the importance of security positions for security guards.

Pay attention to uniforms and behavior of security guards. In-depth training in greeting and guiding customers.

Training in reporting, recording, record keeping and data skills.

Make a security plan (frequency and location of patrols, scope of work of security guards, etc.) and ask them to strictly follow the plan.

Control the quality and quantity of information transmitted to the security guard so that important information is not leaked to the outside through the security guard.

Instructions on how to contact in case of emergency (who, what, how to communicate)

Instruction on fire prevention and fighting methods at the protected target.

Participate in initial fire drills if necessary to understand how to handle fire equipment.

Limiting security guards to intimate interactions with factory employees (company), customers or contractors, … outside working hours
These things are strictly regulated in Japan, but in Vietnam, the subject is still not very strict. As a result, it is easy to collude between security guards and drivers in and out of the factory, fights, gambling, conflicts between security guards and factory employees. And especially, the possibility of security guards and employees entering and leaving the factory is extremely high, so it is extremely necessary to minimize contact between them.
In addition, the rate of using social networks (such as Facebook, ..) in Vietnam is very high, many cases of confidential information being posted on the internet. It's needed to be more careful in information security, avoid information leakage through the internet.
Using the patrol management system
The patrol management system is quite popular in Vietnam. The working mechanism of this system is quite simple. Each security guard will be equipped with a patrol stick (as shown in photo 1). When patrolling around the campus, they will put the tip of the stick in the patrol chips arranged around the campus (as shown in photo 2) to confirm the patrol route.
When checked, information such as location and time will be saved in the memory of the patrol stick. The data is then downloaded from the stick to a PC and used to manage time and location information, and the area the security guards patrolled. This system is not only intended for security personnel, but can also be used for a variety of purposes, such as general and maintenance personnel controlling and cleaning contractors checking the sanitary condition of the areas.
FINAL CONCLUSION
Not only in the field of protection, improving service quality is paramount to enhancing a country's commercial image. Instead of blaming an individual, we can gradually improve the service with technical tools and machines.
When it comes to safety and security issues, surely each of us has our own concerns. However, Vietnam is growing rapidly and may rise even higher in the future.
ALSOK believes that Vietnam's security industry is also growing in tandem with the development of Vietnam's economy and services. We will continue to make more efforts to contribute as much as possible to the development of the security industry, and at the same time contribute to raising the social status of security guards.
Online security allows for 24/7 security! What is an online security system?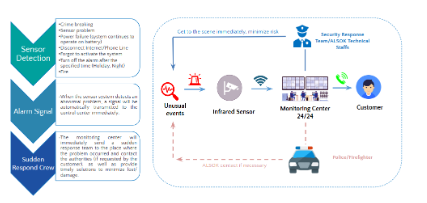 As mentioned above, an online security system is a system that installs various sensors to provide security. Security is performed by combining various types of sensors such as human sensors, door sensors, and infrared sensors. If a sensor detects an abnormality, a notification is sent to a monitoring center that operates 24 hours a day. We will then contact the customer in an emergency and, if the area is covered, an ALSOK guard will rush to the scene.
There are various types of sensors, such as infrared sensors installed around the perimeter of a factory, which can immediately detect intruders, and human movement sensors installed in office areas, for example. If there is an intruder, you can spot it right away.
Online security systems are also cheaper than security guards.
If you leave security that only humans can do, such as motorcycle maintenance, to security guards, and install sensors for other areas, you can reduce costs and further increase the level of security.
Please contact us if you have any inquiries about online security system installation.

Delivery as soon as possible after ordering from the inquiry, it is possible to respond quickly to unforeseen situations.
In addition, it is also possible to set the device voice with bilingual languages from 3 available languages (English, Japanese and Vietnamese)
For further information, please contact the nearest ALSOK office.