Automated External Defibrillator (AED) Process from order to installation.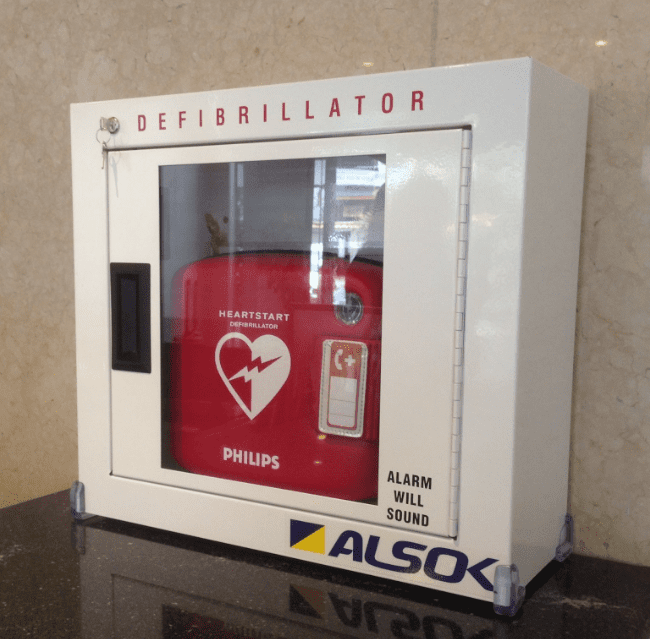 WHAT IS AED?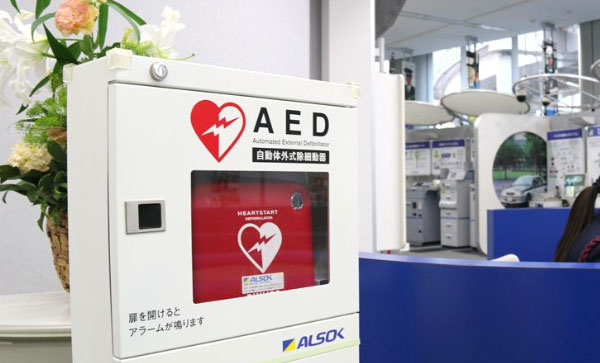 AED stands for "Automatic External Defibrillator".
I suppose it's somehow a formal and specific term, but as the name suggests, AED is "a device that automatically removes fibrillation".
I would like to give further explanation about "fibrillation" in more details from the next time.
But when the heart has a spasm for some reason, the AED automatically analyzes the condition of the heart and determines whether an electric shock is necessary.
It is an easy-to-use device, and even ordinary citizens (non-medical personnel) without medical knowledge can perform lifesaving activities by following the in-built voice prompts.
Sudden cardiac arrest can happen to anyone at any time.
Deepening your understanding of AEDs, even a little, might help save one precious life.
Our Services – Automated External Defibrillator (AED)
Process from order to installation of AED
If you decide to consider installing an AED, please consult with ALSOK first.
There are various types of AED, depending on the needs of client such as when the machine is installed, what kind of place, who will use as well as what the budget is. Depending on each situation, we will propose the most suitable AED from several manufacturers and models that we handle.
Once the model of AED is decided, the process will be from ordering to delivery and training.
It takes about 30 days from order to installation. Depending on the stock situation, it is possible to install within a week, so please feel free to contact us.
At the time of delivery, the training on how to use the AED and Basic life Support will be conducted within about an hour.
Also, we might adjust the delivery schedule according to the client's which is convenient for all employees to participate in the training.
After the one-hour training, we will deliver the AED ready for use.
Placement of AED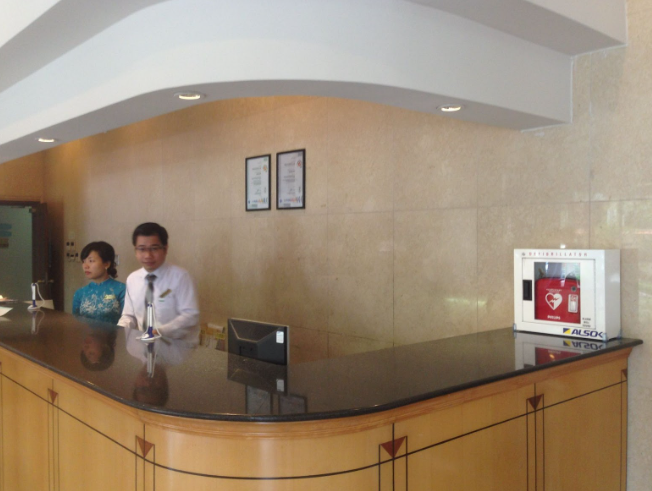 There are three key points in installing an AED.
First and foremost, install it in a place where it might be picked up immediately.
For example, if an AED is installed in a remote warehouse in a large factory, it will take a long time to bring it in.
Thus, it is impossible to take appropriate measures.
Place the AED in an area where you can bring the AED as quickly as possible (preferably within 5 minutes by the time you get it back) no matter where a person falls.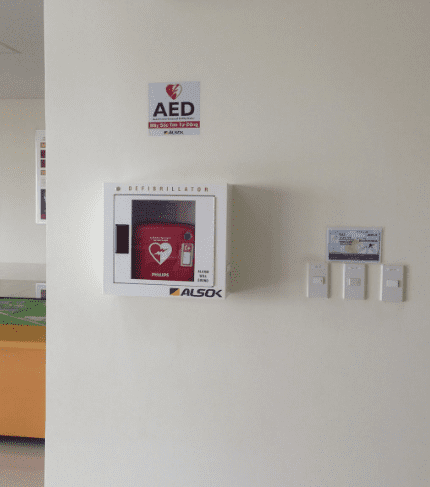 Secondly, install it in a place where anyone can take it out. Please do not install it in a locked cabinet or in a place that requires permission to enter.
Last but not least, place the AED in an area where anyone can easily find it.
Even if you install an AED, it is meaningless if no one knows where it is installed.
Place the AED where many people might use it, such as the cafeteria and elevator hall, as well as near the entrance of your company or factory.
Install the AED in a place to avoid the situation of stand-by person's response like "I don't know where the AED is", "The installation location is too far away, it will take more than 5 minutes just to get it", or "I tried to take it out but it was locked" when someone collapsed and tried to bring an AED,
Please contact us if you have any inquiries about AED installation.

Delivery as soon as possible after ordering from the inquiry, it is possible to respond quickly to unforeseen situations.
In addition, it is also possible to set the device voice with bilingual languages from 3 available languages (English, Japanese and Vietnamese)
For further information, please contact the nearest ALSOK office.