[AED] Where is the installation location? Location Recommendation.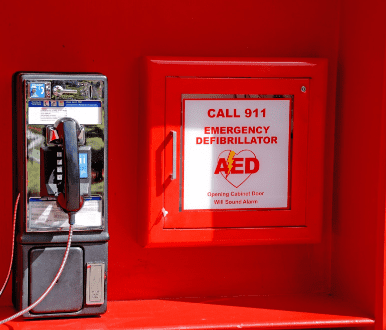 Do you know where the AED is installed?
In Japan, they are installed in places where many people gather, such as airports and train stations, and it is no exaggeration to say that they are always installed in famous commercial facilities and medical institutions.
On the other hand, it has not yet spread to the extent that it is installed in every building  in Vietnam.
However, it is said that AEDs might be used widely in Vietnam in the same way as in Japan.
In this article, we will give further explanation where to place an AED.
WHAT IS AED?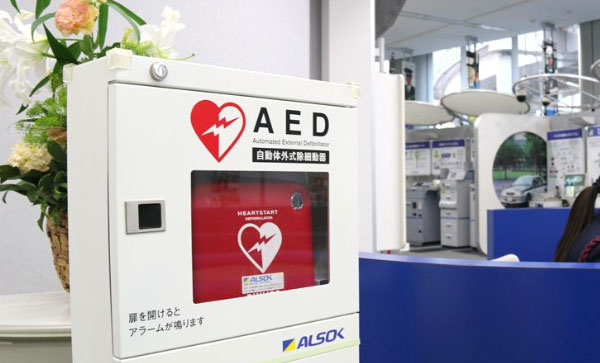 AED stands for "Automatic External Defibrillator".
I suppose it's somehow a formal and specific term, but as the name suggests, AED is "a device that automatically removes fibrillation".
I would like to give further explanation about "fibrillation" in more details from the next time.
But when the heart has a spasm for some reason, the AED automatically analyzes the condition of the heart and determines whether an electric shock is necessary.
It is an easy-to-use device, and even ordinary citizens (non-medical personnel) without medical knowledge can perform lifesaving activities by following the in-built voice prompts.
Sudden cardiac arrest can happen to anyone at any time.
Deepening your understanding of AEDs, even a little, might help save one precious life.
Our Services – Automated External Defibrillator (AED).
Where is the best place to install an AED?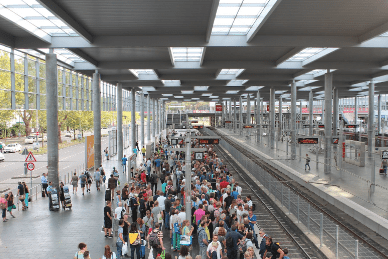 Basically, it is desirable to install it in a place where many people might approach to use it like airports, large facilities, hospitals, etc.
In Japan, they are sometimes installed in public facilities such as terminal stations and schools, as well as department stores and drug stores.
In the future, it would be advantageous to have AEDs everywhere, but there are several places where they should be actively installed.
Firstly, place AED where the heart may be strained, such as sports facilities.
The risk of sudden death is higher after exercises. It would be great if AED is installed in such areas.
Next, "place AED where many people might approach to use"
You never know when a sudden cardiac arrest will occur. No matter when or where such an incident occurs, if the AED is installed in a place where many people usually use it in an easy-to-understand manner, they can bring the AED without hesitation.
Last but not least, place AED where it takes time for ambulances to arrive".
Install AEDs in places where it takes time for ambulances to arrive, places where there are no hospitals nearby, etc.
Conditions for AED installation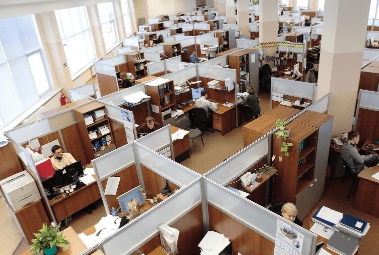 As mentioned above, it is advisable to install AEDs in places where many people might use them.
It is also important for each company to place AEDs in their offices and factories, for the safety of their employees and local people.
However, even if AED are installed, you must avoid situations such as "no one knows where it is installed" or "the installation location is too far away and it will take time to bring the AED".
There are three points in a condition of installation of AED
・Might be brought along from any place immediately
・Easy to find
・Anyone might take out 
First of all, the most important thing is to install the AED in a place where you might bring along as soon as possible no matter where the person collapses.
The key to save a life from cardiac arrest is how quickly life-saving measures can be taken. Place the AED where it can be quickly brought from any location.
Also, to save time in finding an AED, install it in an easy-to-find location such as an entrance or a first-aid room.
Besides, avoid installing the AED in a locked area or in a room with restricted access, so that anyone who happens to be there can bring the AED.
Continuous AED check required
Even if the AED is installed in an appropriate place, avoid the cases that the AED cannot be used when needed. Basically, AED has an indicator that allows users to check whether it can operate normally.
Checking methods, such as lights and screen displays, differ depending on the AED, but be sure to check the indicators on a regular basis.
Also, batteries and electrode pads are consumables with expiration dates. Users will need to replace them periodically, so don't forget that.
[AED] Where is the installation location? Location Recommendation.【Summary】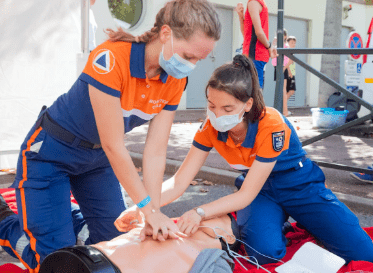 As I mentioned above, the installation location of the AED was introduced.
In the future, it would be helpful to have AEDs installed everywhere.
Let's install it in a place where anyone might pick up anytime. Also, please make sure everyone has awareness about AED's existence.
Please contact us if you have any inquiries about AED installation.

Delivery as soon as possible after ordering from the inquiry, it is possible to respond quickly to unforeseen situations.
In addition, it is also possible to set the device voice with bilingual languages from 3 available languages (English, Japanese and Vietnamese)
For further information, please contact the nearest ALSOK office.